In your Apollo Apps app, you can add a section type Settings, i.e. a section that will give your readers access to a number of settings.

This is a section that allows your users to: 
- Contact you directly by email
- Recommend your application on social networks
- To connect / disconnect the various social networks (for content sharing)
- Clear the cache of your application
- Force setting updates

NB: It is possible to add only one Settings section per application.
1. Credits page
You can enable or disable the credits zone in the Settings section by clicking the activation button.
If you enable the credits zone, you have to fill in the text field. You can add legal notices, etc..
You can activate the HTML option: in this case, you can format your text using HTML tags (<p>, <b>, <u>, <i>, etc.).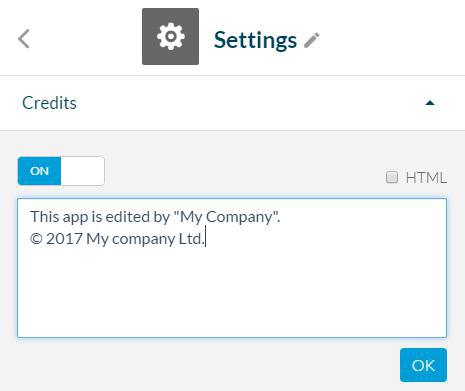 2. Contact support and recommend the application
Just as with the credits page of your application, in the list of settings block, you can activate Contact Support and Recommend the application.

Contact support
If you enable this area, you have to enter the e-mail address at which you want to be contacted.

Recommend the application
If you check this box, your user will be able to share your app on social networks.
3. Connecting to external services
If you enable the block called Connection to external services, your users will be able to connect and disconnect to different social networks from your application. This is what allows them, for instance, to share content with their friends or followers.

Note: The list of applications available to recommend your app will be immediately visible, you will just have to choose where you want sharing to be possible.

You must already be connected to your social applications.

For example, to recommend your app on Facebook from the application:
-The Facebook application must be installed on the phone
-You must already be connected to the Facebook application (and for iOS, also in the phone settings).

4. Flush cache and Delete app cache
This area is automatically added to your application.

It allows your readers to flush content cache of your application (to free up space on the phone for example), or to force to download the full design of your application at the next launch (Delete app cache).