1. 1. Activating the Live Video Add-on
Activate the Live Video add-on from the menu Add-ons > Catalogue > Live Services.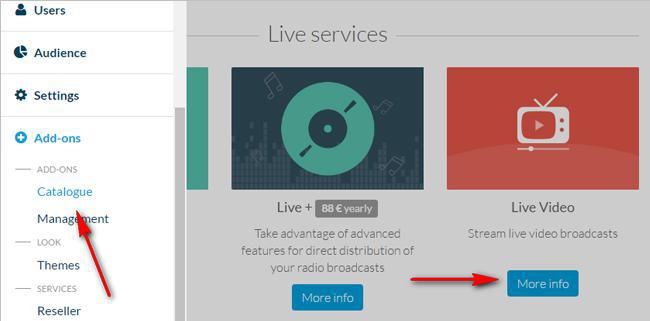 Click the green button "+ Free" to add the Live Video add-on.
 

The Live Video section will automatically appear in your back office.
2. 2. Configure the source
Insert the URL of your live video feed. You must use a video feed in http streaming format in the Live Video section.  

We recommend the following formats http live streaming for iOS and for Android mp4.

- Feed M3U8 for iOS (HTTP Live Streaming)
- Feed RTSP for Android.

The compatible feed must respect these guidelines : https://developer.apple.com/streaming/  

***Feeds such as Youtube, Ustream, etc. are incompatible with this type of section.***

Note: We remind you that if you are using the live video feature, you directly use the streaming provided by your provider. We do not recommend providers or services, you choose one at your discretion. If you search online, you can find several live video providers.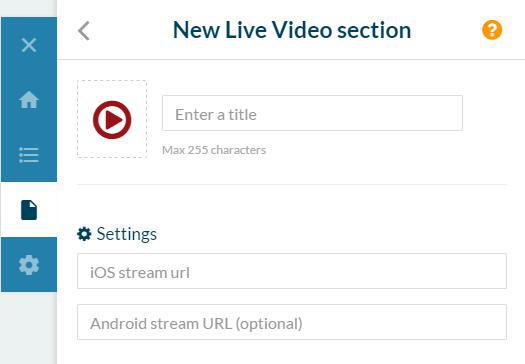 3. 3. Scheduling
To schedule your stream, activate the Scheduling button, and enter the time when you want to go on air.  
You can repeat this time, depending on how often you want to go on air.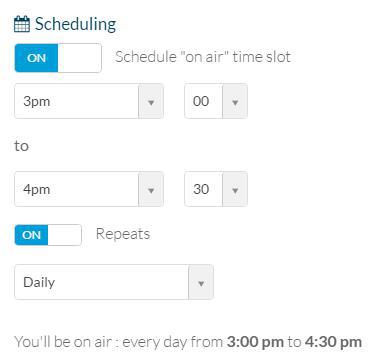 mCMS - Video Video: YouTube, Dailymotion, Vimeo, WMaker, Blip, etc. YouTube