Below you will find a non-exhaustive list of Apple's most common rejection motives.  
We will also show you how to make your app comply with Apple's requirements before submitting it for the first time, or when re-submitting it after a rejection.  
 
1. -Advertising Identifier (IDFA)
The Advertising Identifier is a tracking tool which is included in Apollo Apps code. For this reason, it cannot be removed, even if your app doesn't have any ads at the moment.

It is not only used for ads, but also for statistics. However, Apple doesn't know that and cannot see it, so sometimes it can cause the app to be rejected if it doesn't serve ads at the moment.

You must always reply "Yes" to the questions: "Does this app use the advertising identifier (IDFA)?"
After clicking "Submit my application" on iTunes Connect, read this Online Help to understand the procedure to follow.

If Apple still rejects the app, we recommend to activate the internal ad network and put some ads in your app. This setting can be edited after your app is published.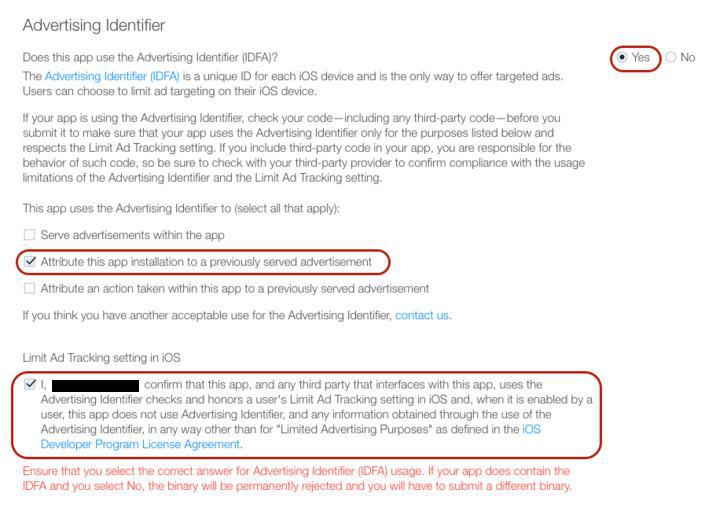 17.2 Details - We noticed that your app requires users to register with personal information to access non account-based features. Apps cannot require user registration prior to allowing access to app content and features that are not associated specifically to the user.

It is contrary to Apple's guidelines to force users to give you personal information in order to access your app.  
For this reason, if your app has the Authentication feature, make sure the button "Allow access to your app without having signed up" in Users > My Users > Settings is ON.  This setting can be edited after your app is published.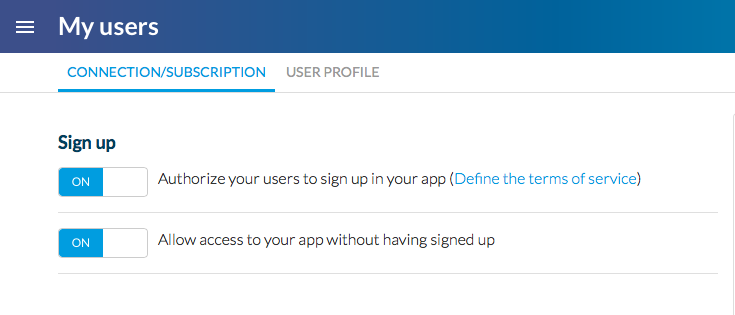 2. -Mentioning Apple's competitors
Your app will be automatically rejected if the content (an article or photo, for example) or its metadata (the app description or the screenshots on iTunes Connect) mention a platform other than the App Store or devices that are not Apple devices.  

If this is the case, you will have to remove all content from your applications and/or iTunes Connect referencing a competing platform.
3. -Donations / payments must be made outside of the application
If you have a section that allows your users to make donations  / payments, keep in mind that it absolutely must be opened in an external browser, or you risk rejection.

Consult this Online Help to find out how to open a URL in an external browser.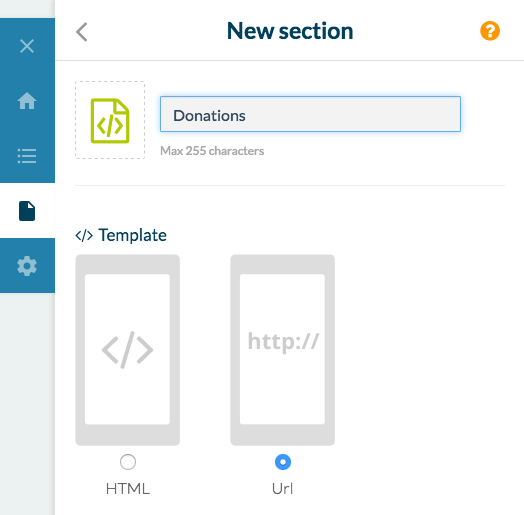 4. -Background audio
The audio playback in background mode (Settings > App options > General settings) must be activated ONLY if you have at least one Sound section or Live section in your application.  

Read this Online Help for more information on this subject. 
5. -Rejection motives related to Metadata: Placeholder text / Screenshots / Age restriction
- The description of your app on iTunes Connect must be substantial; describe your application and its use.  
You should not write only one sentence inviting users to download your application, without further explaining  it.

-The screenshots on iTunes Connect must reflect the purpose of the application, and be made for all audiences (even if your app has an age restriction). Be careful with any violent or suggestive images in the screenshots that are visible in the store.  

-The age restriction must be adapted to your application's content. Make sure you fill out the form Apple provides on this subject honnestly.
To avoid additional constraints, do not check the box indicating that this application was specifically made for children.  
 
6. -Global quality of your application / Similarity to a webapp
Your application must have at least 3 sections with visible content, and offer something interesting to the target audience.  

Also note that the App Store distributes native applications, and Apple considers an app uninteresting if it does not provide any more value than a web application.  
If your application has only (or mostly) web views (such as HTML or Click-to sections), there is a big chance it will be rejected. 
7. Geofencing add-on without active geofence / Beacon add-on without active UUID
If the Geofence add-on is activated in your app, you need to have at least one active geofence in the back office.

Verify in Users > GeoAlert > Geofences: you must have at least one active geofence with a green badge.

If there is no geofence or if all the geofences have an orange badge (meaning they are in draft), your app may be rejected. In this case, it's better to deactivate the Geofence add-on as long as it's not used (Add-Ons > Management).

When you have created the active location or deactivated the add-on, you will have to rebuild the app and submit the newest .ipa file to Apple.

The same goes if the iBeacon add-on is activated but no UUID has been set: you must set a UUID or deactivate the iBeacon add-on (Add-Ons > Management), then rebuild the app and submit the newest .ipa file to Apple. 
8. -Read the "App Store Review Guidelines" document
Don't hesitate to read the App Store Review Guidelines document for an exhuastive list of rules to respect in order to have the best chance of getting your app published on the App Store.