Once your application has been generated in Apollo Apps, you have to submit in to iTunes Connect to have it published in the App Store.  

Start by downloading the .IPA production file (the file that contains your application) and your screenshots from the menu Publish > Publication > iOS in your Apollo Apps backend.
1. Registering your app with iTunes Connect
Step 1: Log in to iTunes Connect. Go to http://itunesconnect.apple.com  and log in to the interface with your Apple ID.
Step 2: Go to the section "My Apps"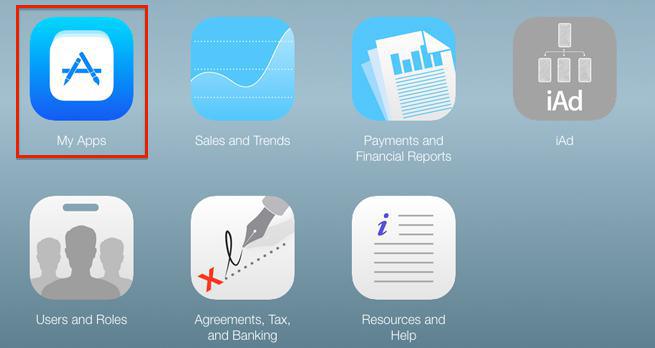 Step 3: Click on the icon and choose "New App"

Step 4: Information about the application

At this stage, you'll have to select the iOS box under Platforms and then fill in:
The name of your application as it will be displayed on the App Store
The primary language of your application 
The Bundle ID. It must match the one you specified during the process of generating the certificates of your iOS app in Apollo Apps. 
The SKU number. It is an identifier that you choose, it is used only in iTunes Connect to uniquely identify your application.
When you are done filling in the fields, click "Create".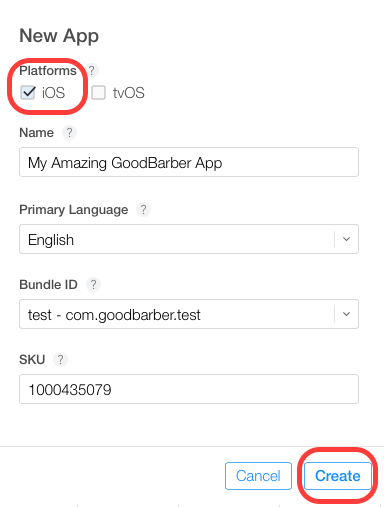 On the page that follows, select a Primary category for your app and click "Save."
2. Uploading the application
You must have an Apple computer to complete this step.  

Step 5: Install Application Loader

In order to upload your application to the App Store, you must first download and install Application Loader by following this link https://itunesconnect.apple.com/apploader/ApplicationLoader_3.0.dmg

Install Application Loader on your Mac and open it.

If you have Sierra OS on your Mac, first update your Xcode version, then open Application Loader from the menu Xcode > Open developer tools.

Enter your Apple ID and password.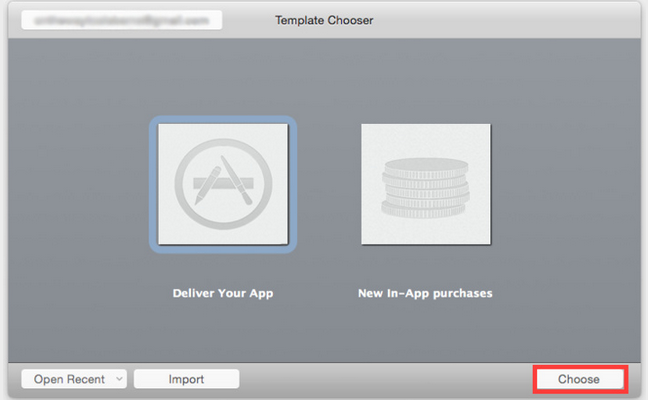 Step 6: Send your .ipa file.

Click on "Distribute your app" and select your app from the drop-down menu.

In the next step, click on the button "Choose" and select the IPA file that you downloaded from your Apollo Apps backend.

Click on "Next" to upload your application to Apple.

When you've finished, a message will appear indicating that the upload was successful.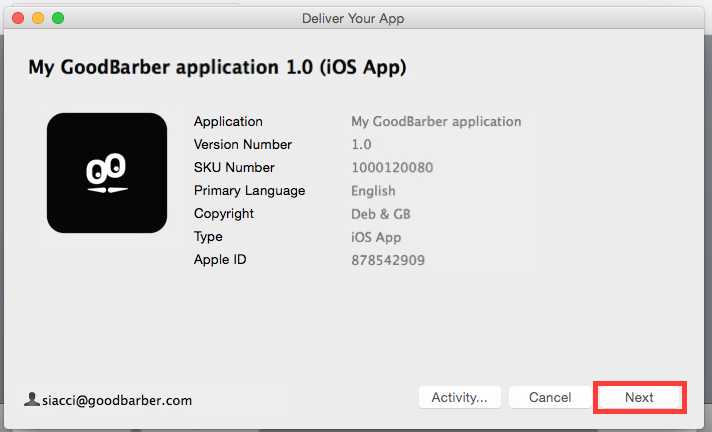 3. Description of the app
Return to iTunes Connect to continue the submission process. 
Step 7 : Select your application on the left-hand side of the page.
Apollo Apps automatically generates screenshots for you. They are available in your application's backend, on the same page from where you can download the binary file of your application (the .ipa file). You are free to either use these screenshots, or to create your own with the AdHoc version of your app.
5.5 inches: Screenshots made with iPhone 6 Plus. At least one image, maximum five images.
iPad: Screenshot made with an iPad. At least one image, maximum five images. 
We recommend uploading all five images for every screen type.
If your subscription does not include an iPad version (Advanced plan), you don't need to upload screenshots for iPad.
Step 8 Meta-Data/Version Information
Description: This is the description of your application as it will be displayed on the Apple Store (maximum 4000 characters).  Make sure your description adequately describes your app or it may be rejected by Apple for "Place Holder" text.
Keywords: Those are the key words that will allow people to find your application more easily on the store
Support URL: Fill in the address of your website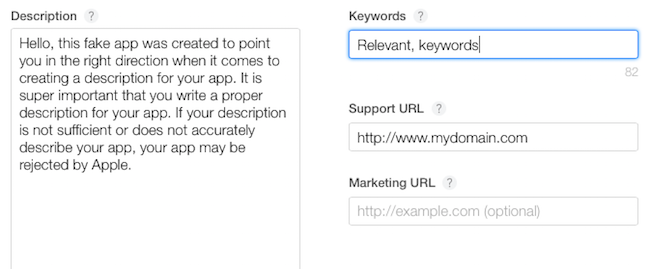 Step 9: General App Information
Fill in this general information pertaining to your app in the store. Pay special attention to the phone number. Please add the country code and make sure that if the telephone includes a + sign, that you don't forget to add it.
App Icon: The icon of your app, format 1024*1024 px
Copyright: The copyright of your app, which will be visible on the App store
Category (Primary): The category under which your app will be published in the App store
Rating: Click on Edit. You must specify whether or not the respective type of content is contained in your app for every category.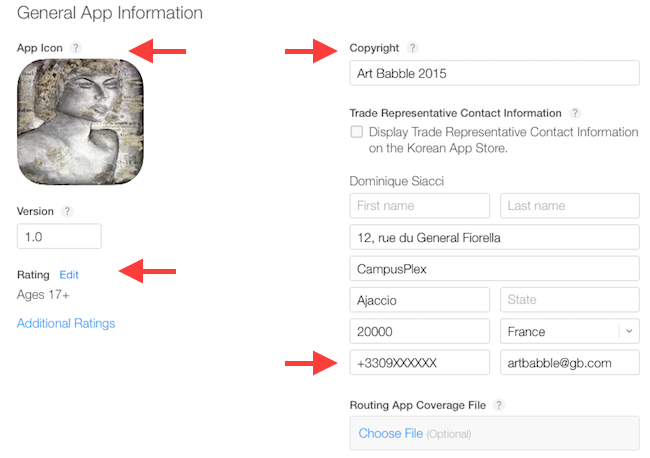 Apollo Apps does not restrict web access. We recommend that you select "Yes" for Unrestricted Web Access.  Be prudent and err on the side of caution when giving this information. If the information is incorrect, this may lead to the rejection of your app.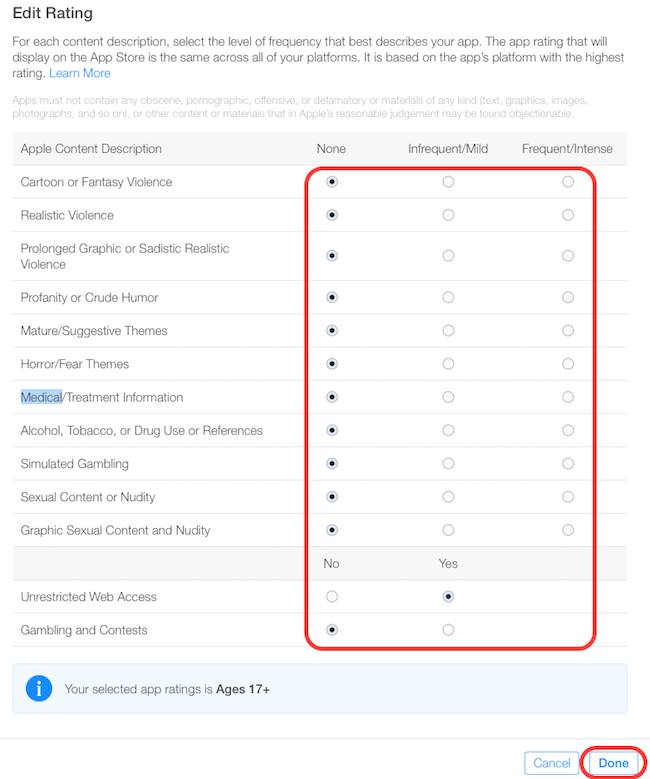 Step 10: App Review Information & Version Release
In the section App Review Information, fill in:
Contact information: Your first name, last name, email address and telephone number (precise the country calling prefix, i.e for France +33 ) in case Apple wishes to call you regarding the review process of your app.
Notes (optional): You may wish to enter this text: "Please note that this app permits: offline consultation of content / content sharing on social networks / bookmark (some posts chosen by the user are saved on his device, as long as the user keeps the app) / send push notifications to users."
Demo account (optional): In most instances, it isn't necessary to enter anything in this field. If you have a User Authentication add-on/Login page in your app, it is best to create a demo account for Apple in the Users Section of your backend. When you are finished creating a demo account in you backend, you can leave the credentials you've created for Apple in the Notes section.
In the section Version Release, choose whether you want the app to be released immediately after approval by Apple, our whether you wish to do so yourself at a time of your choice.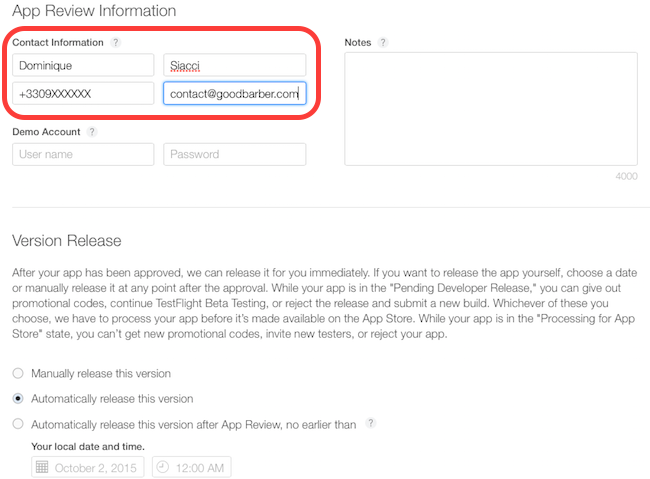 4. Save changes
Save the information you entered in this section.
To do so, click on the Save button at the top right of the screen.

If you haven't correctly entered the information in this section, an error message will appear upon saving. In this case, undertake any necessary changes before proceeding to the next step. 

5. Choice of binary and request for review
Step 11: Choice of app

Scroll down until you reach the Build section, click on the + sign, and choose the file that you sent to Apple at the beginning of the process (with Application Loader).

If you don't see a + icon in this section, please be patient. Your "build" is still being analyzed. Once the analysis is finished, the + icon will appear. 

6. Date and pricing
Go to the section Pricing and Availability

Step 12: Date of publication and price
You will now enter the date of publication of your app as well as the sale price in the App Store:
If you want your app to be published immediately upon approval by Apple, simply leave today's date. Otherwise, indicate a date in the future.
If you want your app to be free on the App Store, simply choose "Free" in the price list. Otherwise, choose a price bracket and the corresponding price will be shown in your local currency.
When you a are finished don't forget to click Save.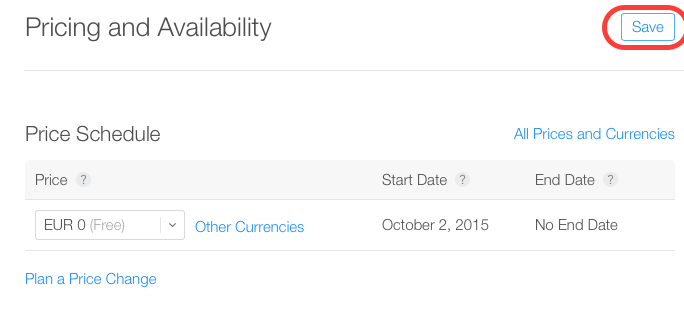 7. Finalize your changes
Step 13: Review request

Save your modifications and click on "Submit for review" on the upper-right corner of the screen. If you are in the Pricing and Availability page, go back to the page of your iOS application to find the "Submit for Review" button.
 

Step 14: Information necessary for review
One last form to fill out will appear.

"Export compliance" and "Content rights"
Export Compliance: Answer NO
Content Rights: Answer YES to both questions

Advertising Identifier
Answer "YES" to the question "Does your app use the Advertising Identifier?".

For the three following options, the answer will depend on whether or not your app includes advertising.

Select the box in middle: "Attribute this app installation to a previously served advertisement", as well as the option under the title Limit Ad Tracking Settings in iOS. 

Click on SUBMIT at the top right to confirm.

 

The status of your application in iTunes Connect is now "Waiting for review".
As soon as your app reaches the status "Waiting for review", Apple will inform you by email about every change in status.
The average delay before your app is ready on the store (the status "Ready for sale") is about 3 days and doesn't depend on Apollo Apps.