The builder allows you to create your application while viewing the preview here.  
The page is made up of 2 zones, the previewer on the left and the builder on the right.
On the right side of the screen, the builder itself is made up of 4 parts represented by icons :

- 1 / The home :
This is the home screen of your application, its center. It is the first page that will be displayed (after the splashscreen) when your visitors open the app. It contains widgets that reflect your content (articles, videos, photos, etc.).  

- 2 / The navigation or browsing mode :
In an application, the navigation is essential and can appear in a number of different ways (Swipe, TabBar, Grid, etc.)

- 3 / The sections :
This is all of your content (articles, photos, videos, etc.). To display articles coming from your WordPress blog, for example, you will choose to add an Articles section.  

- 4 / Resources and tools :
This menu represents the general settings of your app.

Here is where you choose your theme, manage your add-ons, enter the name of your application, and add the icons and splashscreens that are necessary for native applications.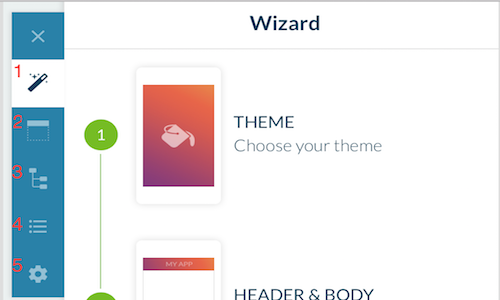 Once you have built your application with the Builder, you can publish it on the stores.