You've created your application with the builder, but you still have to set up your splashscreens and icons for the different devices.  

Here you can also change the theme of your app or add add-ons.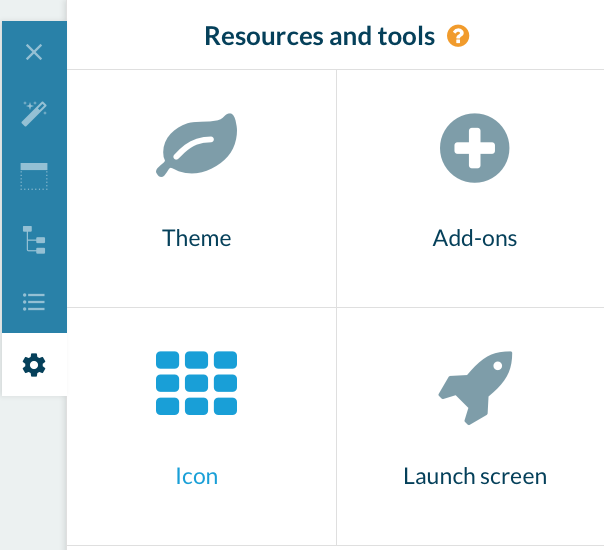 1. Launching screens
You must upload the splash screens device by device (iPhone / Android / iPad).
You must respect the sizes in order to have the best graphic rendering, as it is very important for the quality of the application :

- For iPhone 5C to 7+ : 1242 x 2208 px
- iPhone 4S : 640 x 960 px  
- Samsung Galaxy : 768 x 1280 px
- Tablet (portrait mode) : 1536 x 2048 px
- Tablet (landscape mode) :  2048 x 1536 px

If you don't have a graphic designer handy, you have another very useful assistant (the wizard tool)! By using the background images, you can get immediate, impressive results. Your background image must have a minimum size of 2048 x 2208 px.  

Remember to click on "Generate" after using the wizard to create your splashscreens.

2. Icons
Here is where you can choose the name of your app. If you look at your phone, this is the name that you see underneath the icon of each app.
Don't forget that this is a name (not a sentence), that if more than 15 characters, will be truncated by ellipses.  

Icons are the same as splashscreens, in the sense that one is needed for each device :
- For the App Store : 1024 x 1024 px
- For the iPhone screen : 180 x 180 px
- Google Play : 512 x 512 px
- Android welcome screen : 96 x 96 px
- Android notification icon : 72 x 72 px
- Web App website logo : 512 x 512 px
- Apple touch icon : 192 x 192 px
- Favicon : 32 x 32 px

Don't forget about the wizard—it allows you to create all the icons from just one single image by using a 1024 x 1024 px background image.