Apollo Apps doesn't allow the creation of a multi-language app per se, that is you can't automatically adapt the app language to the country of the user or language set on their phone.

You can only define one language for your app, to set it go to the menu Settings > App options > General settings > Application language, and choose the language of your choice in the drop-down menu. It is the language in which all text and automatic messages will appear within the app, regardless of its content.

If you wish to create your application in several languages, here's two options:
1/ Create one app per language
2/ Create several content sections under one Menu section per language
1. Creating one app per language
To make your entire app available in several languages we recommend creating a Apollo Apps project (=one application) per language.

If you create several identical applications in different languages, we grant you a 50% discount on each language declination, on the basis of your initial subscription for your first application.
To benefit from it, before you proceed to the payment, contact the support from the back office of each language declination, specifying the back office url of the initial application.

Here's a concrete example:
You create one application in French for which you choose the Advanced subscription ($576/year).
You now create two additional applications, one in English and one in Spanish, which are the translation of the first application.
Before proceeding to the payment for these two applications, contact us and we will grant you the 50% discount on the Advanced subscription.  
You will therefore pay $576/year for the application in French, $288/year (instead of $576/year) for the English version, and $288/year (instead of $576/year) for the Spanish version.
If you decide in the future to create another language declination for your application, say the Portuguese version for instance, the 50% discount will still apply, and you will pay $288/year (instead of $576/year) for that application.
2. Creating content sections in different languages
You can create different content sections in each of the different languages and regroup them under a Menu section, as in the example shown below (for more information on the Menu section follow this online help).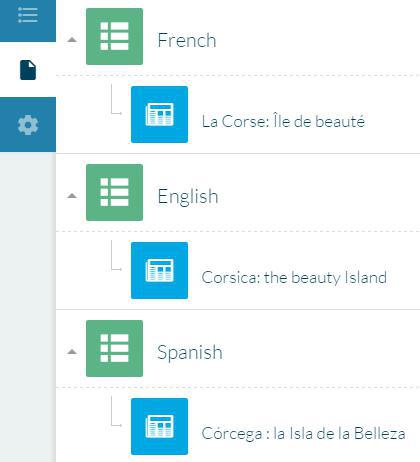 For that kind of layout, it is best your users immediately see upon opening the application that several languages are available, that is why we recommend choosing one of the following navigation menus from the menu Builder > Browsing mode > Template:  
- Grid
- Slate
- From scratch (only if you can master html coding, remember that we don't debug external code).

If you choose another type of navigation than the ones suggested above, your users will enter, by default, into the first section of your application, and will have to re-open the menu to display the available translations.

Below is a display example of your application's menu with a Slate type navigation.