This feature is available for Full and Advanced plans only.
1. Activate the Schduled Push add-on

You can activate the Scheduled push add-on from the add-on store (see this Online Help).
If you are subscribed to the Full or Advanced plan, the add-on will show a green button that says "Free", that you just have to click in order to activate this add-on.
If you haven't subscribed to the Full or Advanced plan, the button will say "Upgrade Now" and you will have to modify your Apollo Apps subscription in order to activate it.
2. Schedule an automatic notification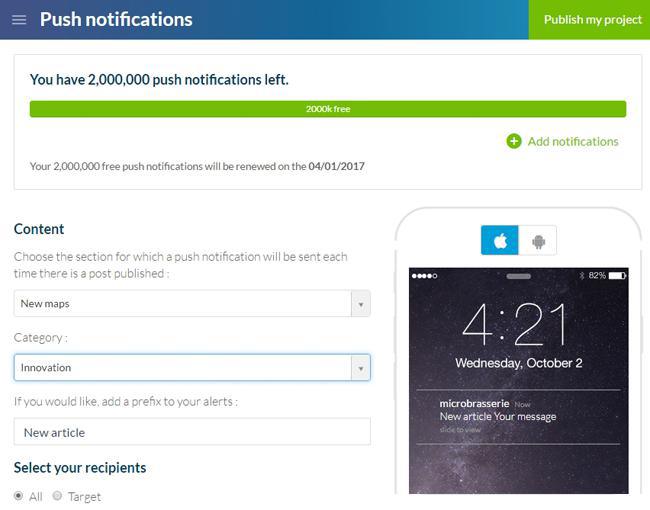 In the tab Users > Push > Schedule, you can schedule the automatic dispatch of notifications each time new content is added to one of your sections in your application.

Select the concerned section of your application, possibly the sub-category, and if you want, add a prefix to your alerts (a little introductory text to your messages, in the example above, "New Article:" ).

You have the option to create an unlimited number of sending rules (avoid overwhelming your users with push notifications or you will run the risk of them deactivating notifications on their devices, and even uninstalling your app).
As with traditional push notifications, it's possible to target scheduled push notification recipients and to modify the notification sound and the Apple badge display.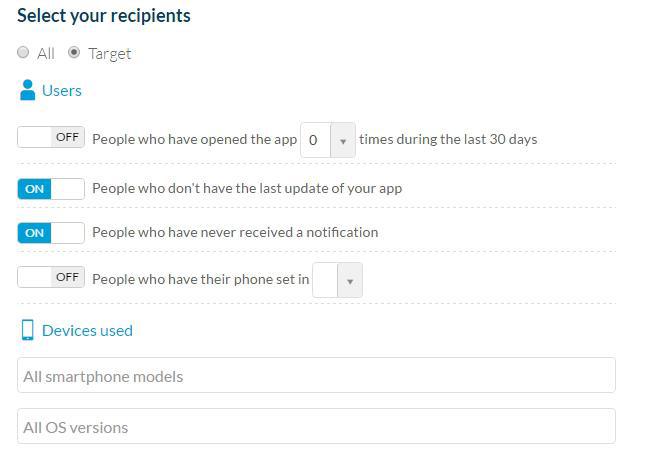 3. Choose the moment during which the push notification will be sent to your users
In the dropdown menu "Send this message" you can have 3 options:
- Any time: the automatic notifications will be sent each time content is published in your section.
- During opening hours: the automatic notifications will be sent during the time slots indicated for each day of the week. The "Copy" button allows you to automatically apply the same hours to every day of the week.  
- During a specific time span: the automatic notifications will be sent only during a given period.

Warning: Calendar section content will be pushed on the date the event starts, not when it's published in the section.
4. Click "Schedule" button on the right (under the preview)
Your automatic notification is now scheduled .
5. List of scheduled notifications
Go to the tab Users > Push > Scheduled.  

You can deactivate one or more rules with the ON/OFF button, see the message content, targeting settings being used, statistics, as well as the status of the notification (green: automatic push active ; black: automatic push deactivated ; clock: one-time notification scheduled for the future).
You can edit a scheduled notification by clicking it.
To delete it, click on the "Trash icon".