1. Upload your splash screen
To configure your launching screens, go to the menu App>General>Launching Screen.  

Splashscreens are the images that appear at the launch of the app.  
To adapt the image to different sizes of different devices, you have to add a splashscreen for iPhones 6+ / 6 / 5S/ 5C, iPhone 4S, Samsung Galaxy, and tablets (landscape/portrait) if you are subscribed to the Advanced plan.  

iPhone 6+ / 6 / 5S /5C : 1242 X 2208 px
iPhone 4S : 640 X 960 px
Samsung  Galaxy : 768 X 1280 px  
Tablets:
-1536 X 2048 px  portrait 
2048 X 1536 px  landscape 

Those sizes are the minimum, if you upload bigger pictures, you will be able to crop them.

The recommended resolution is 72 dpi.

We also give you a tool to create splashscreen from zero.
 
Note:
Although these pictures are fairly large, always try to optimize them, specifically their weight, remember that the quality of mobile networks is not constant. Also avoid the small text at the bottom of the page that are often unreadable on a smart phone screen.
2. The Wizard
The Wizard allows you to create your splash screen directly from the backend.  
When you're done setting it, the Wizard will automatically generate all the splashscreens of the app, at the right formats.  

You have the option to create a splash screen with text on a background, or to upload a picture of your choice.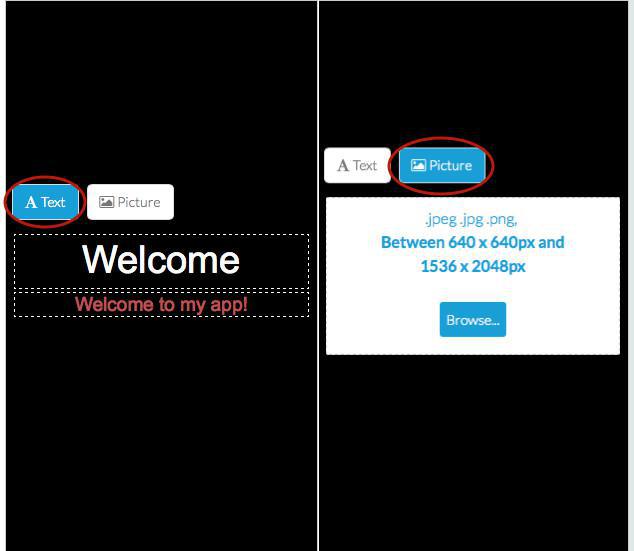 You can edit the color of the title (in the example, the title is Welcome), the baseline (in my example the baseline is Welcome to my app!) and the background.  

As for the background, you can set a color of your choice, or upload an image.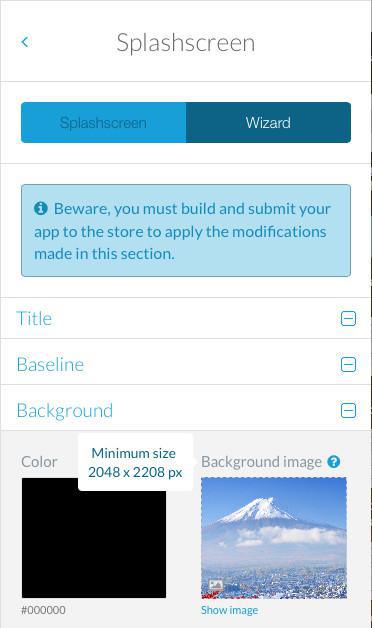 3. Generate your Wizard splash screen
When you are done creating your splash screen, click on Generate at the bottom of the page, and then on Continue in the red warning in order to generate automatically all the formats needed for your app.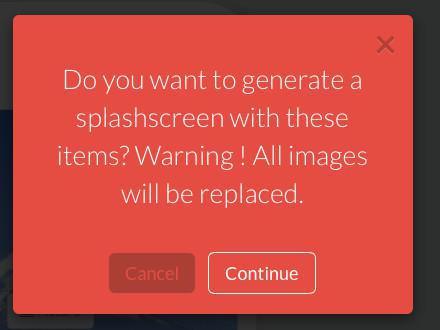 That's it, your new splash screen is created!