To be able to login to your application through Facebook, you have to set up your App on the Facebook platform.

You must follow 3 steps. The first step described in this online help is to sign up as a Facebook developer. It's free, but you need to have a mobile phone number.
This will allow you to activate the Facebook connection in your application.
1. Go to the developer portal of Facebook
Login on your FB account, then go to http://developer.facebook.com.
Click "Register"

2. Accept the Policy
Then click "Next".
3. Confirm your phone number
It is necessary to have your mobile phone handy to continue the procedure.
Enter your phone number, then click "Send as Text", once you have received your confirmation code on your phone, enter it in the dedicated field and click "Register".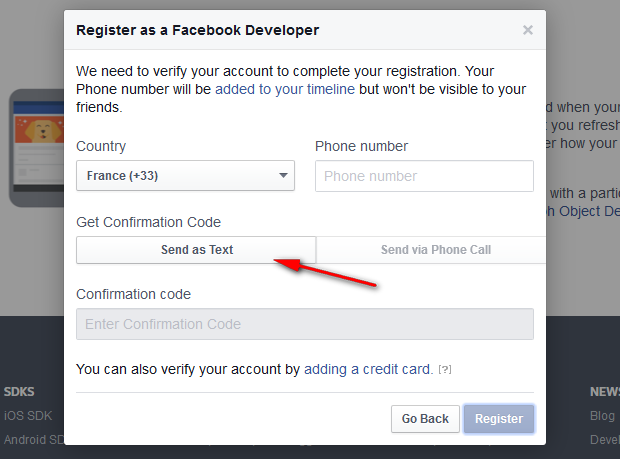 4. You are now a Facebook Developer
Click "Done" to complete the process.

5. It's done
Follow now our online help Facebook - 2/2 | Set up the login with Facebook to create and set your App Facebook.
Now, you can begin the process of creating of your Facebook application.