The User Groups add-on allows you to manage your users by personalizing their access rights for each section of your app.

This add-on is free. However, to activate it, you must be subscribed to the Advanced plan, and have installed the Authentication add-on (see this Online Help).

Once these conditions have been met, you can install it from the add-on store by clicking the green "Free" button.
 

2. Assign the user to a group
To assign a user to a given group, click their name in the menu Users > My users > List. A new field "Groups" is now available.

Click on this field to display the list of groups you have created, and select the one(s) you want to assign the user to. It is possible to assign one user to multiple groups.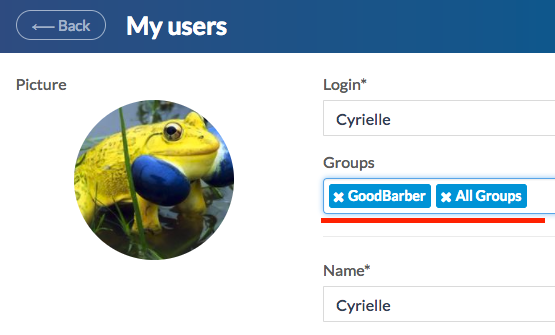 It is also possible to assign one or more users to a group at the same time directly from the menu User > My users > List.  

To do this, select the user(s) of your choice. Then click "Move to" in the dropdown menu for a visual of the list of your groups, select the group(s) in which you would like to put your users, and then click OK.  

 

3. Define each group's access rights to the app or to sections
From the menu Users > My users > Public/Private, you can now personalize access rights to the content of your app.

By default, access to private sections is set to "All groups".
Click the "+" sign and select the groups that you want to have access to private content (whether this be the entire app or one or more sections of the app).
It is possible to give access to private content to multiple groups at the same time.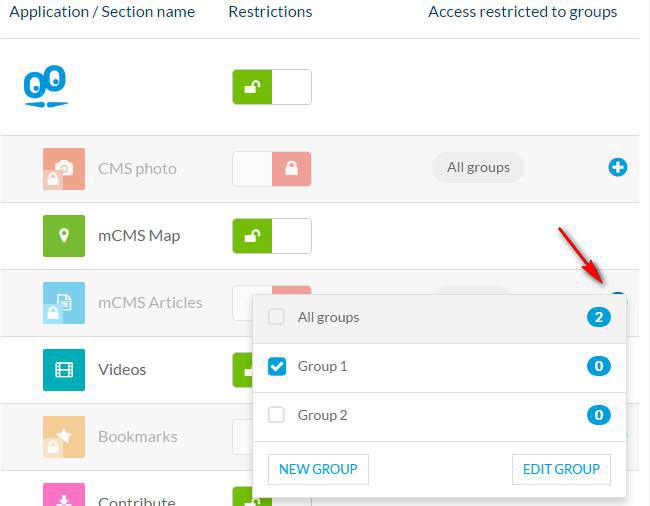 4. Set the text displayed to users when they aren't authorized access
If users are part of a group that isn't authorized access to a particular section, when trying to access to access this section content from your app, a text will be displayed to inform them they aren't authorized to access.
You can set it in the menu Users > My Users > Settings.