1. Publish your Web App
With Apollo Apps you can create a web app.
This web app is accessible from all browsers, and is therefore compatible with all mobile devices (notably Windows phones, Blackberry, or all other devices, even if they do not use iOS or Android technology) but also on computer desktop.

In order for your web app to be active, you must publish it once from the menu Publish > Publication > Web App by clicking the green button "Publish my web app", it might take few minutes, it is the normal behaviour.
 

By default, your web app is accessible from this URL: http://<appname>.ApolloApps.com
But you can (and should) personalize this URL (for information on how to do so, read the Online Helps). 
2. Activate your Web App
You have the choice to either activate your web app or not from the menu Publish > Publication > Web App.

If you do not want it to be accessible to your users, simply turn the indicated button to OFF.
Under the button, a drop down menu will be displayed where you can select the page that you want your users to be redirected to when they try to access the URL of your web app version.  

-Download the native app: The user will be redirected to the store corresponding to the type of device being used (the App Store for iOS users, the Play Store for Android users).

-Page 404 not found: The user will be redirected to a page that says "Error 404- The requested URL was not found on this server".

-Back office login page: The user will be redirected to the access page of your back office, where you usually fill in your user ID and password.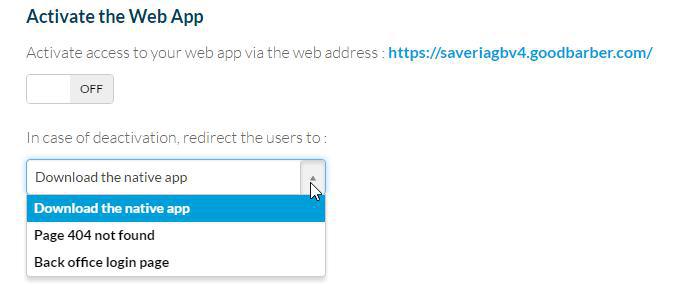 3. Redirect your mobile users to your web app
If you have a website running other that your GB web app, you can redirect automatically your users to your web app when they're using a mobile browser.
For this, copy and paste the code given by the platform into the "head" tag of your site.
 

Enable Google Maps in the Web App Cookies warning Web App's head tag 
Did this answer your question?